Our newest residents on Mana Island, 40 fern birds, arrived in April 2019 all the way from Rotokare Scenic Reserve in South Taranaki in a project managed by FOMI.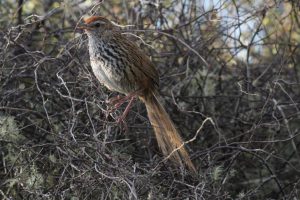 The North Island fernbirds/mātātā were caught at Rotokare using mist nets over three successive afternoons by an expert volunteer team from Parker Conservation helped by FOMI members.
They were carefully driven in the dark each evening to Paraparaumu Airport, settled down in the hangar overnight and flown to Mana Island at first light to be released in the Waikoko wetland.
All of these beautiful little birds travelled very well and they were in great condition when they were released.
This transfer is the culmination of three years of planning by FOMI in conjunction with Kevin Parker of Parker Conservation and the Rotokare Scenic Reserve Trust. We also had lots of good advice from DOC, and from Forest and Bird who did transfers of fernbirds to Pauatahanui Inlet in 2017 and 2018.
It is unclear if North Island fernbirds were naturally present on Mana, but their remains have been found in middens on the island. Mana Island provides a range of habitats suitable for the birds and they were identified as a candidate for reintroduction in the 1997 Mana Island Restoration Plan.
Post-release monitoring is being conducted before and after the 2019/2020 breeding season. This will indicate whether short-term success (territory establishment and breeding) has been achieved on Mana Island.
The first formal monitoring on a FOMI working party in June 2019 identified four pairs up close, with calls from the birds heard in several locations around the island.
FOMI is very grateful for the sponsorship from OMV NZ to generously support this project.
Photos: Dale Shirtliff, David Cornick, John McKoy
Catching the fernbirds using mist nets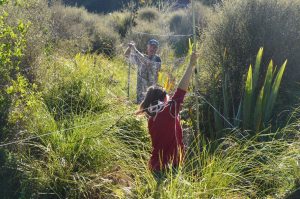 Transferring by helicopter to Mana Island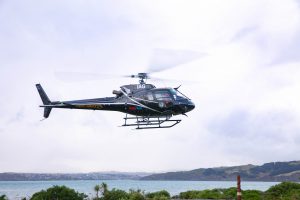 Releasing the fernbirds