Because of high winds on Friday, we set off early Saturday morning. Very nice conditions – the strong southerly had dropped considerably and we had mostly sunny weather throughout both days. There were 17 people on the trip.
April is sooty shearwater banding time. Shane, Trude , Miguel and Annemieke assisted Graeme with this work. 100 chicks were banded, mostly fetched from wild burrows, and a few from burrows FOMI supplied around two years ago. Great team, only minimal cuts and scratches from the feisty birds.
Bruce, Andrea and Tania spent Saturday doing site maintenance on the fluttering shearwater site. They were assisted later by Jaz and Edwina, who had completed clearance of sites for the white-faced storm petrel burrows.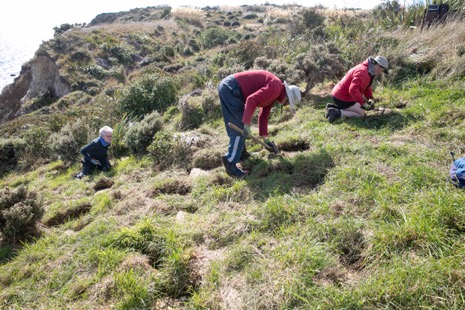 Annemieke and Angela completed monitoring of the ngahere covers. None found this trip, after seeing seven pre-Christmas. We have resolved to GPS and mark the unmarked covers on the next trip.
Colin, David, Milena and son Xavier monitored the pitfalls at the mature flax experimental area site. They set up the pairs of pitfall traps and followed up on Sunday with recording catches. A larger team went up to the site on Saturday night and did 2 minute surveys of all fauna on each of the 80 selected plants. Colin and Annemieke led the two groups.
Allan assembled the 10 sooty burrow boxes which the Plimmerton Shed had cut out for FOMI. The shed crew had delivered the bits to the boat on Saturday morning. Everything was accurately cut and pre-drilled.
On Sunday Angela and Andrea went to the fairy prion site to carry out site maintenance. They were joined by Bruce, Edwina and Dale. Maintenance of that site (entry trench weeding and trimming, soil removal from around burrow lids) was also completed.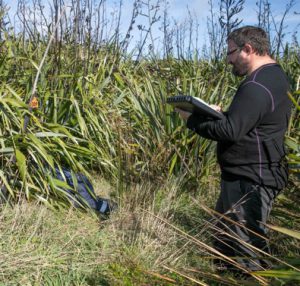 Tania and Jaz checked the health of flax plants in the five different planting zones around the island, removing yellow tubes where plants were root bound. The Hole in the Rock Valley planting near the takahe capture pen on the Southern Track has no survivors. Other areas further north, out of the flax weevil zone, are thriving.
It was two days of intensive activity and great weather. Otis was the duty ranger. Lots of positive comments about the wetland trail and the hide. Several fernbirds were spotted.
Dale Shirtliff, FOMI Executive