Friday was breezy and the trip to Mana was bumpy. Leon met us at the boat and assisted with the transfer of gear to the Lockwood. Nick and Gen are on parental leave, Gen recently having given birth to baby Georgia. Our group of 17 shared space at the Lockwood. Rose, Jana, Christina, Debbie and James were all first timers to Mana. Conditions were fine for flax weevil site monitoring after 8pm.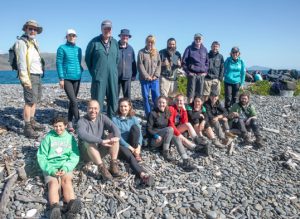 The forecast for Saturday rain was accurate. A cloudy morning eventually brought rain of increasing intensity which then ebbed away early evening as the front passed. Annemieke, Brittany and James monitored the ngahere covers. Just one spotted this time. Green geckos are sun bathers. The team didn't bother checking Saturday because of the overcast conditions.
Miguel, Xavier and Jana assisted Will monitoring the flax weevil site and setting the pitfall traps. This was finished before the rain began. Peter and Cathye worked on clearing the upper reaches of the overgrown Weta Valley Track.
Richard led a group weeding the wetland pathway – a mass of thistles, ink weed and similar pest plants infested this area. He was assisted by Rose, Debbie, Christina and Chris. Brittany and Jana joined this group which persevered until steady rain made stopping a sensible option.
Helen spent the day checking fluttering shearwater burrows – (lots of birds incubating eggs) and doing trimming of the guano fuelled grass growth; and checking out the readiness of the white-faced storm petrel (WFSP) burrows.
David was determined to track down the remaining fernbirds and spent the day doing this.
After the rain stopped on Saturday evening a group of mostly young people walked to Forest Valley in a vain search for Duvaucel's geckos.
A sunny Sunday for painting birds
The front having passed through Sunday dawned sunny and with few clouds. A great day to paint gannets! Annemieke, Cathye, Christina and Debbie made a great team in ideal conditions with Annemieke doing the fine detail work. Lots more to do next trip.
Will, Jana, Brittany and Xavier monitored and closed down the flax weevil site pitfalls. Later, Brittany, Annemieke and James checked out the green gecko site and closed down the speckled skink pitfalls – without seeing any speckled skinks. However, Richard photographed what we suspect is a speckled skink about 200m further up the Weta Valley track. Lynn Adams and Rod Hitchmough at DOC (they were sent a copy) are not 100% sure it's speckled but are pretty excited and want us to investigate the new area.
Peter and James spent the morning light-welling – the area will need to be completed next trip. One day on this work was not sufficient. We are looking forward to checking the spreadsheet to see if this work is increasing the growth of the light-welled trees.
Miguel, Rose and Chris gattered leaf litter for the WFSP burrows near the Lockwood and later topped up the gravel and spread leaf litter on top – this will become an insulating surface for the chicks. Helen supervised this and continued her weeding work at the flutterer site – finding three new eggs laid overnight!
Richard and David assisted Leon by laying out baited pads in tracking tunnels and then proceeding onto weeding and fernbird tracking. Dale managed to avoid any work Sunday by walking the length of the island checking in on the widely spread, hard-working groups.
A tired but happy group made their way home Sunday afternoon. It was great to see a number of new, committed young people on the trip, keen to return, plus of course the older regulars!
Thanks to Leon for his support, providing advice and moving heavy objects around on the Rhino.
Dale Shirtliff, FOMI Executive