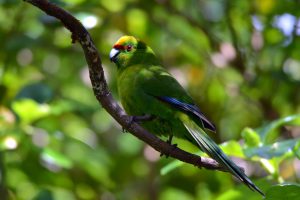 Celebrating our volunteers
FOMI was delighted to celebrate its 20th anniversary in 2018!
It was a wonderful opportunity to reflect on what our volunteers have achieved over this time on Mana Island.
Many volunteers, both past and present, joined us in celebrating the ongoing restoration of the island, in collaboration with DOC and Ngati Toa.
Here is our calendar of celebration activities:
August 2018 – Exhibition at Pataka's Bottle Creek Gallery, Porirua.

We were thrilled to be able to exhibit in the gallery from 3 August to 2 September 2018. Our exhibition included photos over the years, a new model of the island (produced by Doug Royson), a new video showing volunteers and visitors on Mana (produced by Kaboose Media) and a memories board for people to record their memories.
Watch the video of the opening function.
Sunday short talks at Pataka in August. As part of the exhibition we hosted short public talks about restoration work on the island, each Sunday in August at 2pm in the gallery. Details about the speaker programme are on this page.
Photo competition. The winning entries were announced on Sunday 26 August at Pataka The categories were flora (plants) fauna (birds, lizards, wetas etc), landscape/seascape, and people on Mana. See the photo competition page for full details…
All year – Anniversary project. We are working on a special anniversary project in 2018. This is the restoration of the wetland on Mana Island including the construction of a boardwalk through this area.
Special picnic on the island. This was a perfect day on the island on Sunday 25 March. See the photos here.
(Photo of kakariki by Christopher Stephens)